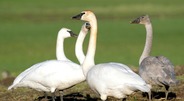 Each winter, birders look forward to the return of swans to the Dungeness Valley. However, did you know that along with simply enjoying their presence, Olympic Peninsula Audubon Society (OPAS) members are also counting Trumpeter and Tundra Swans as part of an ongoing citizen science project?
Since 2011, volunteers from OPAS surveyed Trumpeter and Tundra Swans to determine where they are feeding and roosting. They also monitored how well the swans were surviving by reporting any sick, injured or dead birds.
We are doing it again this year and we need your help. The study will be conducted once a week from November until the end of March with the objective of identifying in what areas they feed, and what areas are used as a night-time roost.
Martha Jordan, Executive Director of the Northwest Swan Conservation will provide the training. Come and see what this project is all about and how you can enjoy a day out in the field and make a difference.
Where: Dungeness River Audubon Center
Date: Tuesday, October 24th
Time: 10:00 am – 12:00 pm
Contact Mary Porter-Solberg at 360-683-8072 for more information.
Please RSVP at the same telephone number if you plan to attend the training class.